About ONeill Chiropractic in Branchburg
We've been delivering quality chiropractic care to the Branchburg area since 1999… (all without cracking or twisting the spine!)
In 1996, I was single and practicing in my hometown of Massapequa, Long Island. A consultant at the time suggested I move off Long Island…an idea I was quite open to! On my way to survey the Eastern Pennsylvania region, I took the scenic route into NJ from Long Island. This took me through Somerset County and Branchburg. I was surprised by the beauty of the area! (Most New Yorkers only see NJ from the Turnpike). When I asked a NJ colleague about the area, he said his parents live in that town and highly recommend the location.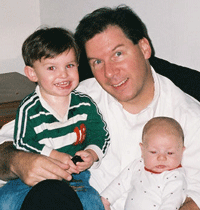 Our chiropractic office philosophy embraces and honors a vitalistic doctrine.
This drives the BIG vision for my office. I'd love to help hospitals downsize and render medicine cabinets obsolete. Our philosophy is one of personal responsibility and empowerment. The human body is NOT predetermined for chronic illness and multiple life-long drug usage is not our genetic destiny. Pain relief from medication that fools the body into not feeling symptoms is faster, cheaper and more convenient–but something that I do not offer. My office is designed to empower people that the choices, habits and lifestyles they choose determine their health index; not grandpa's genes. Via education and results we help patients realize they can set goals for health; not just hope to avoid sickness.
Health attainment is a journey.
Our ideal patient is the individual who understands health attainment is a journey of personal responsibility. Health once attained is not forever retained unless by acts of proactive volition. The patient that actively work on all aspects of well-being, responds well and quickly. The patient mentally and physically engaged in the healing process responds best.
On of the most FAQ by new patients is:
"How long must I stay under care?"
In our model, that is a decision for the patient; not the doctor. Because the patient must decide, they must be able to answer "what am I hoping to achieve with chiropractic care?" and "do I fully understand all ONeill Chiropractic can offer so I can make that decision"? From the information we offer, the patient can set their own health goals. I am a proud father to only 3 people.
Community health
My dream for the health of my community starts with a little child that one day says "Mommy I don't feel right. Can we see Dr ONeill to see if I need an adjustment?" Although the child may have a fever and diarrhea, his parents understand "he is healthy", if his nerve system is clear. Today that child says, "Mommy I need medicine". In the Big Picture, that mind-set becomes dangerous in the teen years. My dream community would have more gyms, playgrounds and local organic food stores than pharmacies. Hospitals would no longer need to raise funds to build additions. People would realize you can't be drugged into health. Families would exercise together. Chronic illnesses (affecting 80% of today's' adults) like, high blood pressure and diabetes would be rare. The community would see true health as obtainable and sustainable via good lifestyle choices supported by vitalistic doctors such as chiropractors. Millions of dollars that once were going into reactive disease treatment would be freed up for community use. A healthier community would be happier, more productive and not just surviving but thriving.
Sound interesting? Please contact our Branchburg chiropractic practice to make an appointment.
---
ONeill Chiropractic | (908) 723-0219
Get healthy & stay healthy with chiropractic care for the Branchburg, Bridgewater & Somerville communities.